Click here to download the review of this meeting.
In recent years, explorations at Hierakonpolis have concentrated at the northern edge of the elite cemetery at HK6 with the aim to find out more about cemetery development and the use and reuse of space over time. Initial excavations in this zone revealed a large brick-line tomb of Naqada III (Dynasty 0) date which contained some beautiful objects of carved ivory, including a rare decorated knife handle, but even more intriguing was the areas around the tomb. Here, at the very tip of the cemetery rise and cascading down the slope, were the remains of materials of much earlier predynastic date, indicating activities previously unsuspected in this place. These apparently involved much drinking and the lighting of lamps in association with a nearly life size ceramic statue of a hippopotamus, substantial fragments of which were recovered and pieces together. The largest ceramic statue known from early Egypt, it is a most remarkable creation, and the recovery of a number of other figurine fragments in the immediate area indicates that it was not alone. In this talk we will take a look at how we might interpret and reconstruct this assemblage and the paths this research has lead us down. We will also explore the impact the activities taking place here on the cemetery's edge, may have had on rituals and imagery in later times.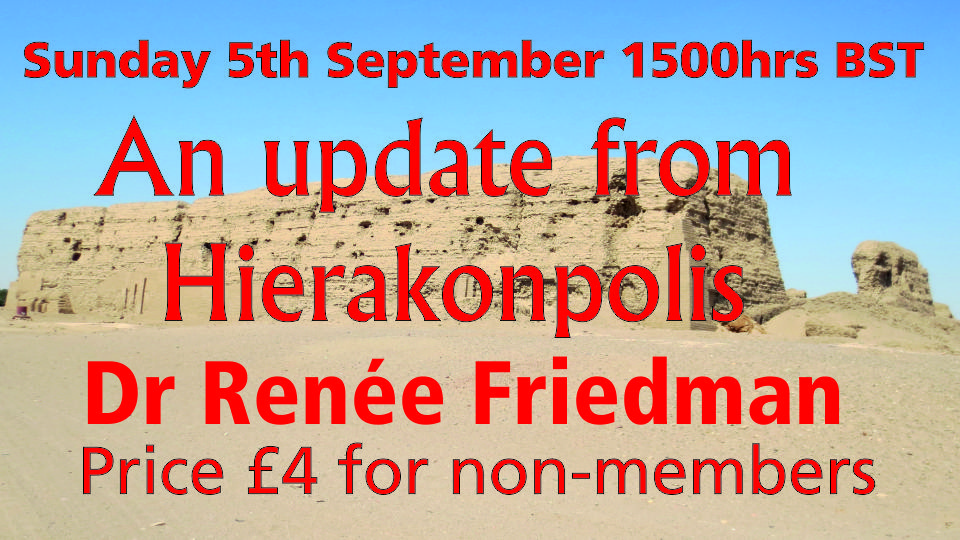 More information about Dr Friedman's work at Hierakonpolis is available on their website where you can also sign up to become a Friend of Nekhen.
This talk was given at the September 2021 meeting of the Essex Egyptology Group which was held on 5th September online via Zoom – click here to download the review of this meeting.