Click here to download a review of this meeting.
Most people visit Medinet Habu to explore Ramesses III's magnificent memorial temple, but the smaller, earlier temple to Amun within the 20th Dynasty mudbrick enclosure wall is arguably of far greater significance. In this lecture Lucia will explore the history of this temple from the Middle Kingdom through to the Roman Period, focusing on the reigns of the 18th Dynasty pharaohs Hatshepsut and Thutmose III. She will examine the significance of Amun as a creator god worshipped in this sacred place named by the ancient Egyptians the True Mound of the West.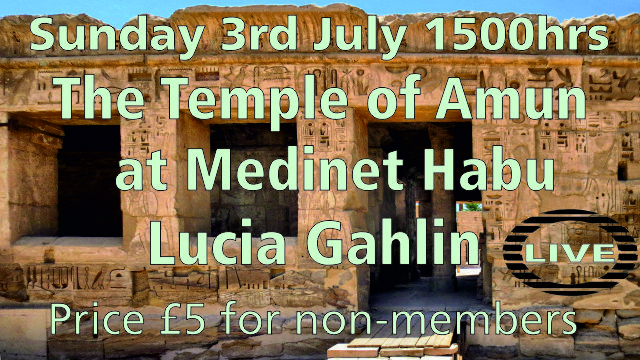 Lucia Gahlin directed the Bloomsbury Summer School from 2009–2019, having also directed numerous highly successful courses of her own. She is an Honorary Research Fellow at UCL's Institute of Archaeology and lectures widely on ancient Egypt. She leads regular archaeological tours to Egypt (including for Andante Travels). She has a long-standing association with UCL's Petrie Museum of Egyptian Archaeology, and has worked particularly on its material from Amarna. She is Chair of the Friends of the Petrie Museum, and has been a Trustee of the Egypt Exploration Society. She has worked as Small Finds Registrar at the archaeological site of Tell el-Amarna in Middle Egypt. Her publications include Egypt: Gods, Myths and Religion (2001) and chapters in Wilkinson, T. (ed.) The Egyptian World (2007).
This talk was given at the July 2022 meeting of the Essex Egyptology Group, which was held at 3pm BST on the 3rd July 2022 in person at Spring Lodge, Witham – click here to download a review of this meeting.