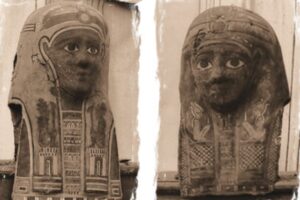 Conserving Cartonnage: Two Mummy Masks from the Graeco-Roman Branch of the Egyptian Exploration Society – Maxim Chesnokov, 14 May 2023
This talk was given at the May 2023 meeting of the Essex Egyptology Group, held at 15.00 BST on 14 May 2023 in person at Spring Lodge, Witham.
Post-graduate student Maxim Chesnokov talked to the Group about the fascinating story behind two badly deteriorated cartonnage masks, including exciting analytical results from the masks themselves and the results of a non-destructive survey of their inner papyrus layers.
Between 1896 and 1907, Grenfell and Hunt were funded by the Egyptian Exploration Fund (now Society) to dig in the Faiyum with the purpose of excavating papyrus. Over this time, caches such as the Oxyrhynchus Papyri were discovered as well as a trove of cartonnage mummy casings which were often partially constructed from recycled papyri.
Whilst many of these cartonnage objects were to be dismantled for the chance of finding papyrus inside, the outbreak of WWII meant that the rest of this collection was held in storage and only recently revisited for a conservation survey. Today, the objective is not to retrieve papyrus from the cartonnage but to conserve it as a whole.
Maxim Chesnokov is a post-graduate student at University College London doing an MSc in Conservation for Archaeology and Museums. He has previously obtained an MA from UCL in Principles of Conservation, and an MA (Hons) from University of Edinburgh in Ancient History and Classical Archaeology.