Click here to download a review of this talk.
Seth, considered the Enfant Terrible of the gods in the Egyptian pantheon, was a troublesome and dangerous deity who brought death into the world of the gods by the single act of fratricide/regicide in murdering his brother/king Osiris. This representation of Seth comes from the 2nd Century AD writings of Plutarch who was a Greek author writing for a Greco-Roman audience. So where did this story originate, is this story a true rendition of Seth's character or is there another side to him that has been forgotten, being perpetually over shadowed by the character of Osiris?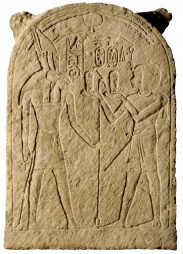 Ian Taylor lives in a small village outside of Cambridge and studied for his MA in Egyptian archaeology at the Institute of Archaeology at UCL, London before moving on to do his PhD in Egyptology at the University of Birmingham.
This talk was given at the December 2019 meeting of the Essex Egyptology Group, which was held at 3pm on the 1st December 2019 – click here to download a review of this talk.