This virtual lecture series on 15th and 22nd November 2020 will examine the area of Thebes with a stress on an up-to-date overview. Our two speakers are wife and husband team, Helen and Nigel Strudwick.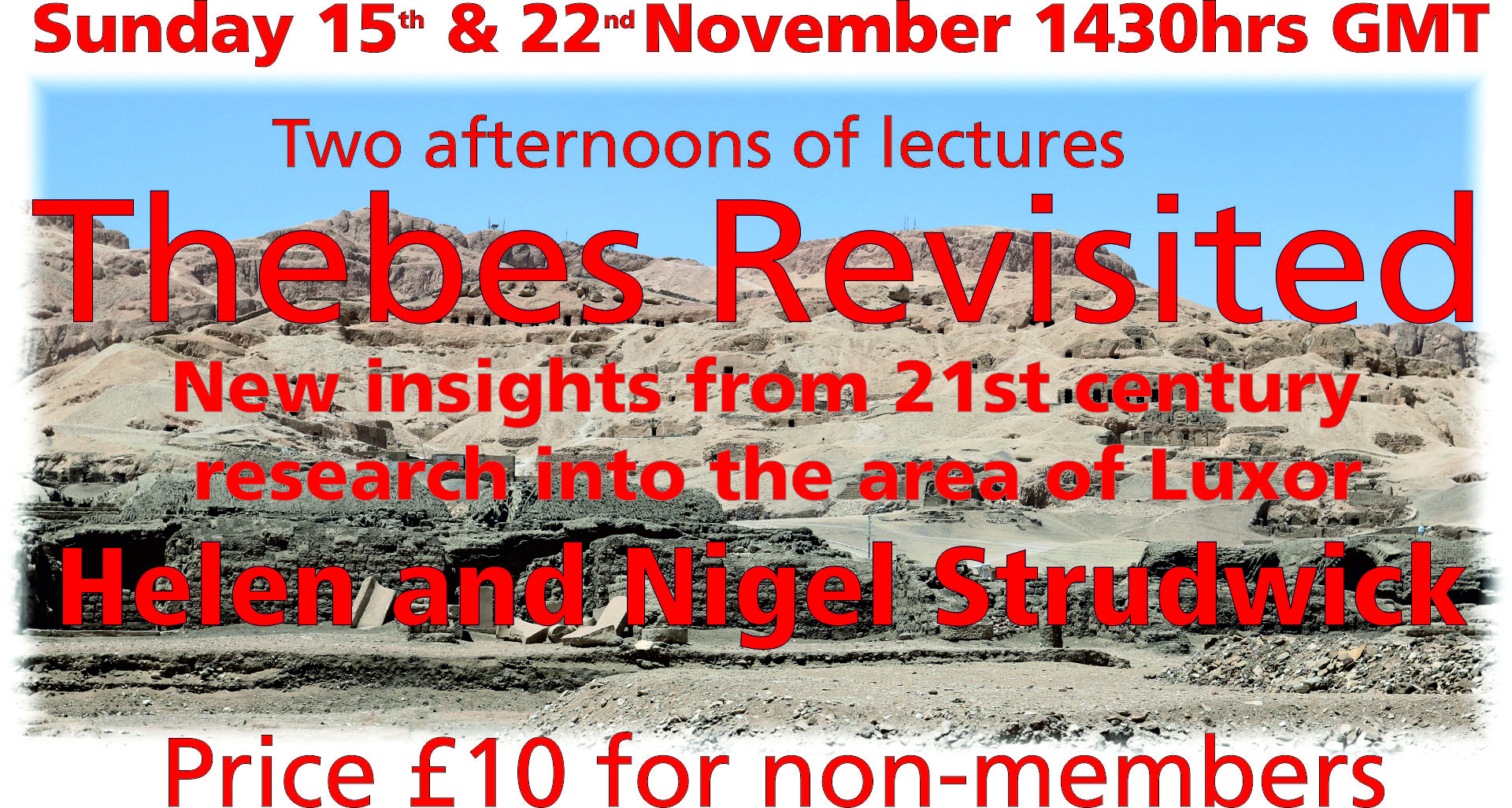 Helen Strudwick, Associate Curator (Egyptian Antiquities), has worked at the Fitzwilliam Museum since 2001. She originally studied the archaeology of the eastern Mediterranean at Liverpool, but rapidly specialised in Egyptology. She has been field director of the Cambridge Theban Tombs project since 1994. She recently curated a major exhibition on ancient Egyptian coffins, focusing on the development of coffins and the funerary industry more generally in pharaonic Egypt.
Dr Nigel Strudwick is an Egyptologist whose interests lie in the Old Kingdom and in the archaeology and history of Thebes. He has worked in universities and museums, and has excavated on the West Bank of Thebes since 1984, working for several seasons on the tomb of Senneferi (TT99). He has published many books and articles on these topics, including publications of Theban tombs as well as more popular works such as "Thebes in Egypt" with Helen Strudwick.
Week 1 – Sunday 15th November 14:30-17:00 GMT
Life and landscape in Thebes
The first talk looks at the interactions between the landscape of Thebes and its inhabitants in the historical period; our understanding of how the Theban topography changed over the millennia has developed enormously in the past twenty years, and we are starting to recognise how the landscape of thousands of years ago influenced the development of the settlements and temple complexes of the Theban areas.
Thebes from prehistory to the end of the First Intermediate Period
The second reviews the region during a period which is often overlooked, because the traces of that time have been masked by structures dating to the Middle Kingdom and later—but the formative years of Thebes are very important.
Week 2 – Sunday 22nd November 14:30-17:00 GMT
Monumental architecture: the East and West Bank temples
Death: private and royal tombs
The final two talks cover the areas of temples and tombs of the well-known epochs; so much research has been done on these in recent years that our views of many of the aspects of them have changed considerably.
Tickets
:
Essex Egyptology Group Members: £8; details of how to pay should have been emailed to you, if you've not received this then please use the contact form on the right.
Non-members: £10; please use the contact form on the right for further information and to purchase tickets.